Nexus Learner Achieves Perfect 45 points in IBDP 2020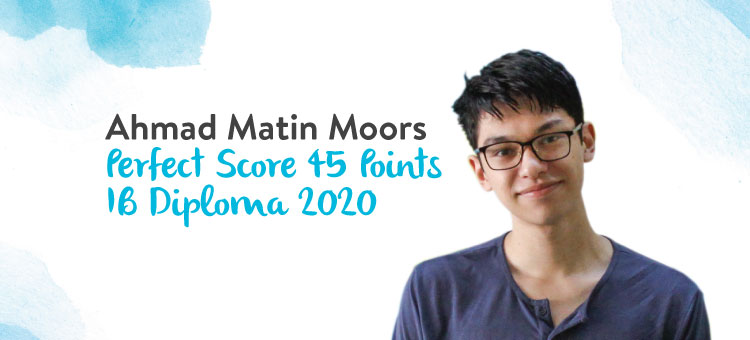 Nexus learner Ahmad Matin Moors scored a perfect 45 points in the International Baccalaureate Diploma finals 2020. This is a full score in the widely recognised IB Diploma examination.

Matin is placed among the top 141 learners worldwide or the top 0.21% who scored this laudable mark. He will be continuing his tertiary education at University of  St Andrews majoring in Economics and English. 

1. How do you feel about achieving a perfect 45 points score in IB Diploma 2020?
I feel really grateful and very pleasantly surprised as this was something that happened completely out of the blue. I also feel very thankful to all of those in my life that helped me get this far, especially my subject teachers, the IB CORE team, my boarding family and all of my peers.

2. Why did you decide to pursue IB Diploma? 
My old school offered it and it seemed rigorous.

3. What were the subjects you took for IB?
English A Language and literature HL, Physics HL, Economics HL, French B SL, Mathematics SL, Chemistry SL.

4. How did you manage your time during your IB days?
Just doing something always be it meeting a deadline for coursework, homework or a test, or helping to organise events at boarding, or just helping friends or doing CAS activities after school most days. Time becomes too precious to be wasted on trivial matters. Keeping up with the demands of the course had helped make the relatively short repirves all the more enjoyable. Planning around those are what helped me get through it all. 

5. What do you like about Nexus in terms of their learning and CCAs? 
I like the good quality of teachers who taught me during IB and the variety of CCAs.

6. What type of CCAs did you do and how did Nexus support you?
Teachers at Nexus have been the main organisers of CCAs like Nexus Community, the secondary production, IB choir and bouldering that are all new experiences for me that I had to do for CAS but ended up enjoying so much. But this growth on my part would only have been possible with the countless hours that the teachers put in to organise everything.

7. Could you tell us more about CAS? What community service and creative projects did you pursue?
I was involved in a variety of activities such as IB choir, We Will Rock You and Alice in Wonderland productions, Bouldering, leading the boarding eco council and helping with STUCO events and Nexus Community activities mainly in boarding, to name a few. 

8. Which part of IB do you think impacted you the most mentally and in terms of shaping your character?
The pace of life that it forces you to catch up to. There is just so much variety and so many things necessary for each subject or CORE element that you are always busy, that taught me a lot about how I work, how I handle stress and helped create a sense of community through shared daily struggle. 

9. How did your teachers at Nexus help you in your academics?
They made lessons engaging, helped organise my overall workload by spreading deadlines and targeted what areas I have for improvement.

10. What makes Nexus teachers different?
There are many genuinely engaging and devoted teachers who taught us during diploma. Whether it was Ms Sam's activities to try and wake us up, Mr David's elaborate presentations with innumerable pop culture references or Ms Saron's tailored and targeted exam practices, you could see that they cared and were willing to put time and effort to help us.    
 
11. Tell us about getting admitted to University of St Andrews to pursue Economics and English. How did Nexus support you through this application?
As I was preparing my application, Ms Sarah Johnson was instrumental in helping me to present the best possible version of myself. I believe for a week she gave up lunches and breaks whenever she was free and every day for that week we met and worked on my personal statement. Not to mention beforehand all of her innumerable guiding chats which helped me settle on this degree after coming into IB thinking I might be a physicist.